Conversational AI bots
Streamline processes and deliver exceptional customer service with Conversational AI bots. Consumers are now looking for instant, more personalised interactions with brands - where conversational AI bots can help you achieve that.
Contact us
What we do
Sky Foundry can tailor a messaging bot for your business, to help you increase sales and reduce costs. We work with anyone from startups to global enterprises, from project planning through to service promotion - to help you supercharge your customer service.
The Process
We build bots tailored to your business goals and challenges
1. The Brief.
We work with you to create a brief which details your organisational challenges, goals, insights, and audience.
2. Planning and Conception.
We create a design and chat decision tree based on your brief, that delivers your audience the most value.
3. Scripting and Content.
Using your tone of voice and insights from your decision tree, we create copy and graphics to nurture the user through their journey.
4. Integration and Development.
We build your bot to make it come to life. We use a standard template and customise it based on your business needs.
5. Testing and Optimisation.
Before launching, we ensure your bot and UX works to deliver the most value to your audience and remove any sticking points.
6. Launch and Promotion.
We don't set and forget, but instead help you connect with your audience using your new conversational AI bot.
Fat Controller
Creating a holistic marketing strategy to increase venue traffic and reputation.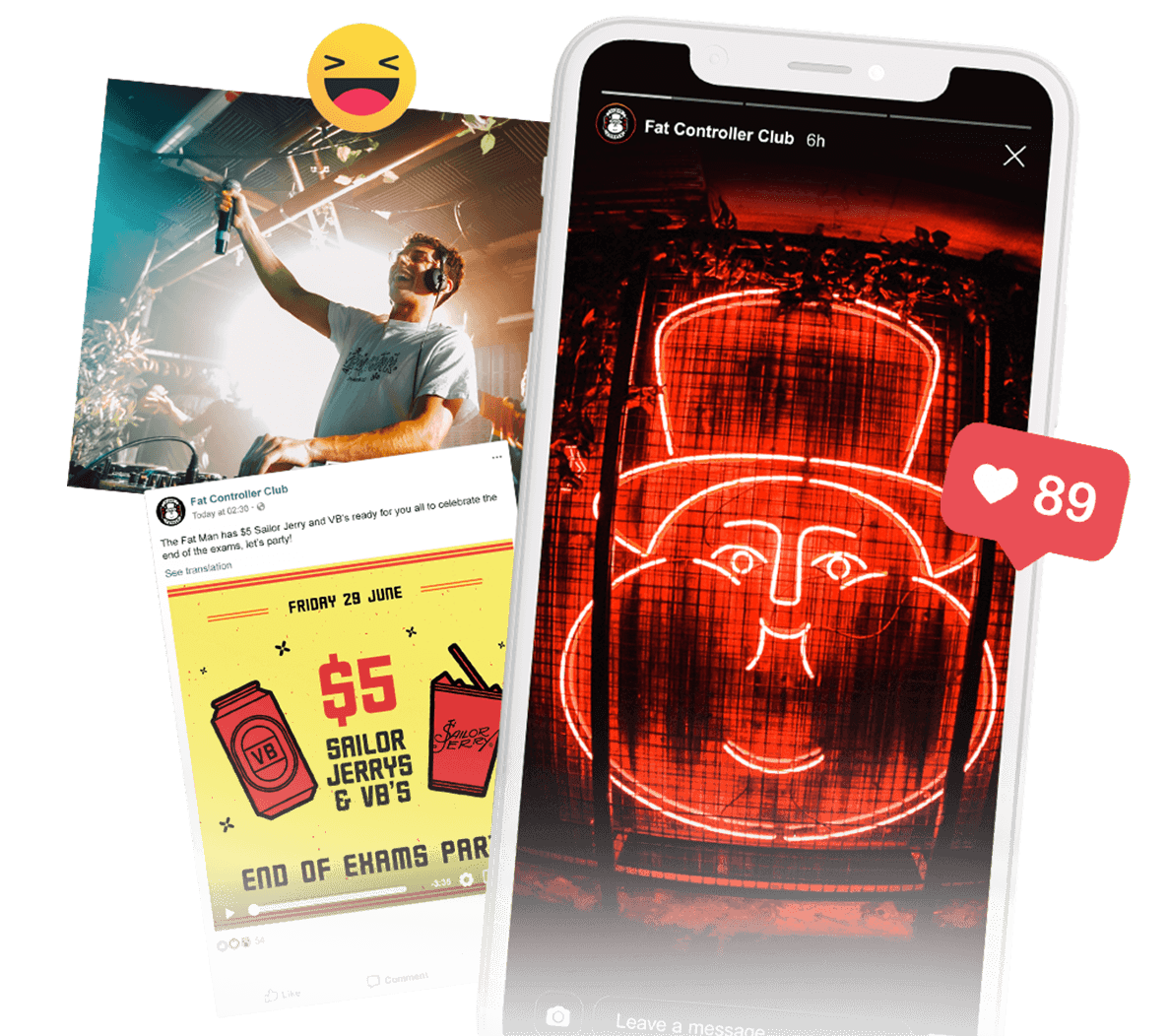 Our Solutions
Messaging bots are all about connecting with customers in a way that is more intuitive for them, at a time that is convenient for them
If you're looking to automate certain aspects of your business' customer service processes, and deliver a better customer experience. If you find you receive lots of enquiries asking the same thing or your team spends a lot of time qualifying leads before understanding their needs, a bot can help you streamline these processes.
News Sites
Increase customer engagement with your brand. Filter through frequently asked questions, deliver breaking news stories to your audience, direct people to the right media contact for more information, help users find relevant content on your site and actions they can take next.
Professional services
Save your business time and money. Allow contacts to book meetings directly in your diary, access your contact details, and find out more about the services you offer.
Real Estate
Improve the level of support you provide to customers. Provide instant replies to frequently asked questions, showcase properties available in a customer's area, and put them in touch with the right team member.
Travel agents
Provide more personalised customer experiences based on the information they provide. Help your customers discover more about destinations, guide them to relevant travel packages, allow them to make bookings, and get them in touch with your team.
Hospitality
Generate more leads from your website and social channels, and better qualify them earlier on in their journey. Allow customers to place takeaway orders, discover locations, view a menu or make a booking.
Online stores
Increase online sales. Showcase latest products and content, recommend related products, subscribe contacts, direct customers to the right product on your website, or get them in touch with customer service simply and seamlessly.
Ready to streamline your customer service?
Get in touch with us today to start automating your business!