Engage with social media marketing
Effective social media marketing is about so much more than just being present on your channels. It's about engaging with your audiences and delivering helpful content that isn't intrusive. But how do you actually do this well?
Contact us
What we do
What we do
When used right, your social media messaging can be extremely powerful in attaining and retaining customers. At Sky Foundry, we understand this and acknowledge the importance in creating unique messages for your channels and audiences. We work with you to refine your audiences and set goals for your channels. Our social media marketing approach is content based, where we work together to curate and create content that delivers value and connects with your audience. Our in house team can create your social media strategy, curate and create your content, implement your plan, and optimise your messaging and channels. We can also manage your paid social media campaigns, to extend your brand reach and grow your business!
The Process
We engage your audience and optimise your social media messaging
1. Discovery.
We undertake a full social media and content audit, to understand your current business messaging, content opportunities, promotional needs, audience insights, organisational goals and more.
2. Planning and strategy.
Using the content and insights gathered from the Discovery stage, we create a thorough long term social media plan with short term campaign objectives to help you achieve your goals.
3. Implementation.
Here we partner with you to implement your social media strategy and campaigns month on month. We ensure you are part of the process all the way through, so you understand how everything works together.
4. Optimisation and support.
More often than not, you will find that your social media tactics will need some tweaking once you've learned what your audience is and isn't interested in. We're are available to support that process long-term with you.
Fat Controller
Creating a holistic marketing strategy to increase venue traffic and reputation.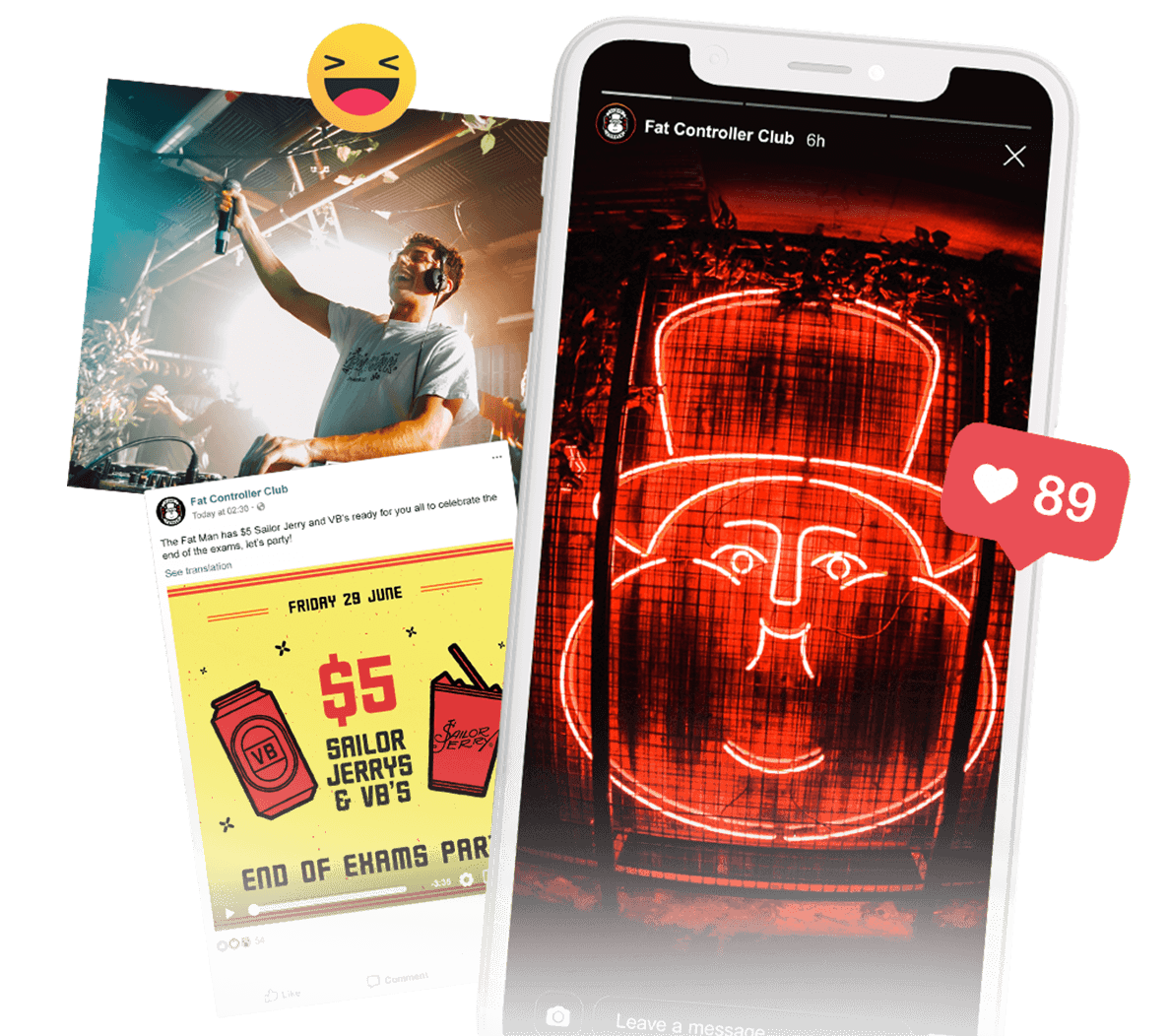 Our Solutions
Why should you invest in social media marketing?
Meet your audience where they are
With the majority of internet users engaging with social media daily, it makes sense to meet your audience there to start a conversation.
Start a conversation
Social media is about contributing to a conversation and topics that resonate with your audience and brand ethos. Become a thought leader with your content and conversations.
Greater brand reach
Connect with like-minded people you may not have been able to reach traditionally. Let users find you via topics and content that resonates with them.
Improve your search rankings
A consistent social media strategy will enhance your search rankings, as it improves the credibility of your brand and gives search engines more context to your business offering.
Drive traffic to your site
Social media can act as another driver of traffic to your site. We help you develop the right strategy to drive traffic while being helpful and not pushy.
Are you ready to start connecting with your audience on social media?
Get in touch with us to discuss your social media marketing needs today!